Custom and Production Knife Reviews - Spyderco, Strider, Benchmade & More
Recurve Blade - Blade Geometry
Spanto Blade Info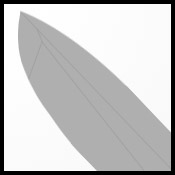 Description
A combination of two blade types, "Spear Point" and "Tanto" - together you get "Spanto". Coined by Rick Hinderer, and used extensively in his knives, it is a popular and useful blade shape.
The Spanto resembles a Tanto blade mostly, but with the overall shape of a spearpoint. This makes it a very versatile blade in that it has a typical curve and belly of a spearpoint, but with the thicker overall blade and stronger tip characteristic of Tanto
Its a fantastic EDC blade, especially for harder-use EDC type of situations. The blade is quite straight, and not tapered like most blade shapes so its not the most efficient slicer.
Spanto Blade Examples