Custom and Production Knife Reviews - Spyderco, Strider, Benchmade & More
Frame Lock - Locking Systems
Frame Lock Info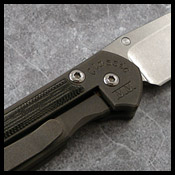 Description
The Frame or Integral Lock was created by Chris Reeve of Chris Reeve Knives and first appeared on the Sebenza. Chris Reeve calls it an Integral Lock, but the common name used in the industry now is simply "Frame Lock". The Frame Lock is essentially a reworking of the Liner Lock created by Michael Walker to simplify and strengthen the design by removing the handle scales from the knife and using thicker liners that would serve as the handles, the liner, and the integrated locking bar.
Frame locks are extremely popular with hard use folders because they are stronger than normal liner locks and give the perception of simplicity and strength. An additional advantage that the frame lock has over the liner lock is that when you are gripping the knife, you are also reinforcing the lock since it is integrated into the handle.
Just about every company makes folders in a frame lock, but some of the standouts would be Strider, Chris Reeve Knives and Kershaw Ken Onion designs such as the Leek, Chive and Scallion.
Liner Lock Examples