Custom and Production Knife Reviews - Spyderco, Strider, Benchmade & More
Lockback - Locking Systems
Lockback Info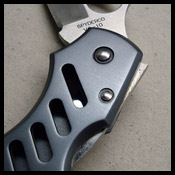 Description
The lockback is one of the older forms of blade locking systems, and is very popular with entry level knives because of the low cost of manufacture. This type of lock does not require liners, and can be built right into injection molded nylon handles, such as those used by Spyderco's Endura folder. This allows money to be spent elsewhere on the knife such as blade steel, while still using a very reliable locking system. The lock back is very reliable; in fact, Spyderco's strongest folders are compression locks and lockbacks.
A lockback is usually characterized by a notch somewhere on the back of the handle, where the spring-loaded, rocker bar locking mechanism can be pushed to disengage the blade from it's locked position. The lock works by wedging itself into a notch in the blade tang and preventing it from rotating. The lockback is recognizable as the locking mechanism used in the famous Buck 110.
Some improvements in lockback design have happened over the years, most noticeably with the addition of the David Boye dent on all Spyderco lockbacks. This improvement makes the lockback much less susceptible to accidently disengagement. In the gallery is a photo of an Extrema Ratio lockback that has a double lock.
One-Handed Closing
The biggest disadvantage of the lockback system is difficulty of one-handed closing. Some lockbacks, such as most Spydercos, can be closed one handed due to the large kick area, which can be closed partway by flicking it closed using your finger as a blade stop because of the large unsharpened kick and then closed the rest of the way by pushing it up against something.
Lockback Examples