Custom and Production Knife Reviews - Spyderco, Strider, Benchmade & More
Rollock - Locking Systems
Rollock Info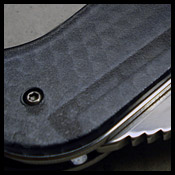 Description
The Rollock was designed by Allen Ellishewitz in the late 90's based on a design by Blackie Collins from 1975 called the Rolox. The Rolox was originally sold by Benchmark as the Rolox knife, and is quite collectable now. Benchmark was producing the Rolox knife up until the company was purchased by Gerber in the early 90's.
Now the legacy lives on in the Elishewitz redesigned Rollock. Much more affordable than the original Rolox, the Rollock is a budget knife produced by CRKT. The mechanism on the rollock is quite simple, but not the strongest lock I've seen. I've owned a few CRKT rollock knives, and some of the have sketchy lock reliability. However, the blade does not close onto your fingers so even lock failure under normal conditions should not cause you any harm.
The lock works by sliding the blade, which has two pegs that protrude from each side of the tang, along a set of guides built into the handle. The guides angle at the front, allowing the blade to lock into a tension spring. When you push the spring to release the knife, you can slide the blade back, and it locks by allowing one of the pegs to slide into a notch in the guide. The handles are translucent, allowing you to see the action of the lock.
Rollock Examples