Custom and Production Knife Reviews - Spyderco, Strider, Benchmade & More
Bone - Knife Handle Material
Bone Info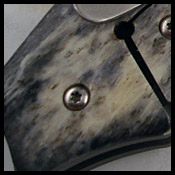 Description
Like Stag, Bone handles are very traditional and represent the prize of the hunt, and are used more often in hunting knives. Many different types of bone are used for bone handles, and are often dyed to acheive a particular color. Some popular types of bone include Cow and Giraffe. Cow bone is easier to source and the cheapest type of bone to use.
Bone is very porous and needs to be stabilized before use in knife handles because otherwise it will absorb the surrounding moisture and anything it touches and also contract and expand with changes in climate, causing the bone to deform and eventually crack. Bone is commonly used on production knives such as multi-blade slipjoints due to it's affordability, however some custom knives also used dyed and stabilized Giraffe bone as it a nice looking material and has lots of character.
Jigged Bone
Jigged Bone is basically bone that has a jigging pattern applied to it. The jigging machine has a saw blade that cuts into the bone, creating a pattern and allowing for more grip on the handle. This is particularly popular with slipjoint folders such as those from W.R. Case Cutlery. Usually Jigged Bone comes dyed in darker colors.
Some popular jigged bone patterns include Rogers, Corn Cob, Worm Groove, Pine Bark and Standard Jigging. You can see some of the patterns on Case's website.
Bone Examples