Custom and Production Knife Reviews - Spyderco, Strider, Benchmade & More
FRN/GFN Fiberglass Reinforced Nylon - Knife Handle Material
FRN/GFN Glass-Filled Nylon Info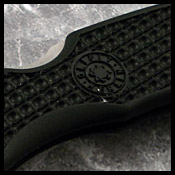 Description
FRN (Fiberglass Reinforced Nylon) and GFN (Glass Filled Nylon) are the same thing, a nylon-based plastic that is reinforced with Glass Fiber and injection molded for use in knife handles (among other things). FRN and GFN handles are one of the cheapest and toughest handle materials to produce in large scale production knives.
Some major producers of FRN/GFN knives include Spyderco, CRKT and Gerber. FRN and GFN are not seen in custom knives because it is optimized for large scale production with dies for injection molding, and not unique custom made products.
Even though Glass Filled Nylon is perceived as a cheaper material, which it is, it makes for a very tough knife handle material and can take some serial abuse. It is quite a bit more flexible than G-10 and other Resin Laminates, so does not have the rigidity associated with them, however it makes up for this in it's impact toughness. Additionally, nearly any texture can be created on the surface of an FRN handle because it is injection molded, making it a very versatile material to work with with infinite possibilities.
Sources have claimed that Spyderco's FRN contains 30% Glass, but this information is not substantiated. The higher the glass content, the more rigid the nylon.
FRN/GFN Examples