Custom and Production Knife Reviews - Spyderco, Strider, Benchmade & More
Titanium - Knife Handle Material
Titanium Info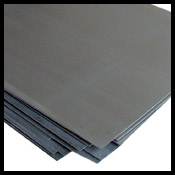 Description
Titanium is a lightweight, high-strength and corrosion resistant metal that is popular for use in both custom and production knives. It is known on the perodic table as the element Ti.
It is usually alloyed with several different other metals to improve it's strength and other significant properties. The most common alloy used in knifemaking is Ti6Al4V which is an alpha-beta alloy, containing about 6% Aluminum and 4% Vanadium.
In knifemaking, it is commonly used for liners/frames, bolsters, pocket clips, backspacers, standoffs, and occasionally blades. On framelocks it is often the entire handle material. In fact, nearly all high-end custom knifemakers that make liner locks or frame locks use Ti6Al4V for the lock. Knifemaker Warren Thomas frequently use Ti6Al4V for blades as well, using a titanium carbide coated edge for additional cutting power. It can be easily machined and grinded to form various shapes and patterns. It can also be brushed, bead blasted or polished.
Ti6Al4V is the strongest of all the titanium alloys and is the most widely used as well, with applications that range from aerospace to scuba diving.
Anodized Titanium
Titanium can be anodized, creating some brilliant combination of colors. The titanium is placed in an alkaline bath to which electrolytic voltages are passed through it, creating an oxide layer which changes color the longer it is treated. This created some very brilliant colors which are quite common to see on knives, especially customs. The anodizing can wear off.
Composition of Ti6Al4V
| | | | | | | |
| --- | --- | --- | --- | --- | --- | --- |
| C | Fe | N2 | O2 | Al | V | H2 |
| <0.08 | <0.25 | <0.05 | <0.2 | 5.5-6.76 | 3.5-4.5 | <0.015 |
Values are shown in percentages. Balance of the elements is Ti.
Titanium Grades Table
| | | | | |
| --- | --- | --- | --- | --- |
| Grade | Name/Composition | Minimum Tensile Strength (ksi) | Minimum Proof Stress (ksi) | Elastic Modulus (Psi-106) |
| 1 | Unalloyed Ti 35A | 35 | 25 | 14.9 |
| 2 | Unalloyed Ti 50A | 50 | 40 | 14.9 |
| 3 | Unalloyed Ti 65A | 65 | 55 | 14.9 |
| 4 | Unalloyed Ti 80A | 80 | 70 | 15 |
| 5 | Ti-6Al-4V | 130 | 120 | 16.4 |
| 6 | Ti-5Al-2.5Sn | 120 | 115 | 16 |
| 7 | Ti-0.15Pd | 50 | 40 | 14.9 |
| 9 | Ti-3Al-2.5V | 90 | 70 | 13.1 |
| 10 | Ti-11.5Mo-6Zr-4.5Sn | 100 | 90 | 14.9 |
| 11 | Ti-0.15Pd | 35 | 25 | 14.9 |
| 12 | Ti-0.3-Mo-0.8Ni | 70 | 50 | 14.9 |
| 13 | Ti-0.5Ni-0.05Ru | 40 | 25 | 14.9 |
| 14 | Ti-0.5Ni-0.05Ru | 60 | 40 | 14.9 |
| 15 | Ti-0.5Ni-0.05Ru | 70 | 55 | 14.9 |
| 16 | Ti-0.05Pd | 50 | 40 | 14.9 |
| 17 | Ti-0.05Pd | 35 | 25 | 14.9 |
| 18 | Ti-3Al-2.5V-0.05Pd | 90 | 70 | 15.3 |
| 19 | Ti-3Al-8V-6Cr-4Zr-4Mo | 115 | 110 | 14.9 |
| 20 | Ti-3Al-8V-6Cr-4Zr-4Mo-0.05Pd | 115 | 110 | 14.9 |
| 21 | Ti-15Mo-2.7Nb-3Al-0.25Si | 115 | 110 | 14.9 |
| 23 | Ti-6Al-4V ELI | 115 | 110 | 16.3 |
| 24 | Ti-6Al-4V-0.05Pd | 130 | 120 | 16.4 |
| 25 | Ti-6Al-4V-0.5Ni-0.05Pd | 130 | 120 | 16.4 |
| 26 | Ti-0.1Ru | 50 | 40 | 14.9 |
| 27 | Ti-0.1Ru | 35 | 25 | 14.9 |
| 28 | Ti-3Al-2.5V-0.1Ru | 90 | 70 | 13.1 |
| 29 | Ti-6Al-4V-0.1Ru | 120 | 110 | 16.3 |
Titanium Examples