Custom and Production Knife Reviews - Spyderco, Strider, Benchmade & More
Coil Spring Automatic - Automatic Opening Systems
Coil Spring Automatic Info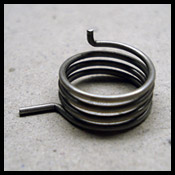 Coil Spring automatic are the most common production automatics on the market, and the majority of button lock automatics use a coil spring mechanism. Almost all side opening automatic knife are either coil spring automatics or leaf spring automatics.
Almost all automatic knife companies use the coil spring in their knives. These companies include Microtech, Protech, Severtech, Benchmade, Dalton, and many others.
How it Works
The Coil spring is tucked into a milled out portion of the handle and the blade and applies constant pressure to the blade towards the open position. One end of the spring is held in the handle while the other end is threaded into a hole in the blade. The button lock is often used with coil spring autos because it is one of the few locks that can be easily made to lock a knife blade open as well as closed, which is a necessary trait for an coil spring automatic knife.
Coil Spring Pictures