Custom and Production Knife Reviews - Spyderco, Strider, Benchmade & More
Cuda Speed Opener - Opening Systems
Cuda Speed Opener Info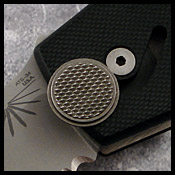 Description
Before assisted openers, Camillus created what they called a semi-automatic speed opener system. This opening system used a slide pad that allowed you to open your knife a little more quickly that a typical thumbstud, but offered little more advantage than that.
The idea did not really take off, and now that Camillus is no longer with us, it probably never will. The disk is mounted on the tang of the blade and is actually quite nice to use, however it ads a lot of parts, and is really unnecessary. Additionally, many people do not like the look of the Cuda Speed Opener.
For the most part, the Semi-Automatic Speed Opener can be chalked up to being a rather unmemorable peice of folding knife history.
Cuda Speed Opener Examples