Custom and Production Knife Reviews - Spyderco, Strider, Benchmade & More
Flipper Opener - Opening Systems
Flipper Opener Info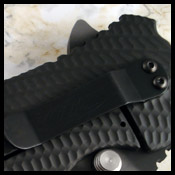 Description
The flipper is an opening style that was popularized by Ken Onion when he designed the Speed Safe assisted opening system. The second generation of Speed Safe knives from Kershaw featured the flipper and allowed the knives to be opened more easily than previously with the thumb studs. In fact, the flipper lends itself perfectly to the assisted opening system.
Now the flipper is seen in a lot more than just assisted-opening designs, and is often used with ball-bearing pivot systems such as the IKBS. Many makers also use the flipper opening system with normal folders in addition to the typical thumb stud opener like Kirby Lambert and Rick Hinderer.
The flipper appears as a small fin or protrusion from the kick area of the blade, which sticks out from the back of the handle when the knife is closed. When pushed on, the knife should open, the amount depends on whether the knife has a bearing pivot or assisted opening system.
Flipper Opener Examples