Custom and Production Knife Reviews - Spyderco, Strider, Benchmade & More
Spyderco Round Hole - Opening Systems
Spyderco Round Hole Info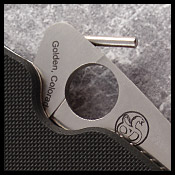 Description
The Spyderco Round Hole™ is probably one of the most recognizable icons in the sporting knife industry. Whether you love or hate the unique looks associated with the round hole opener, it's usefulness and simplicity are undeniable.
The round hole opener is used in the same way a thumb stud opener is, by placing your thumb in the hole and pushing against the blade while simultaneously rotating it in a semi-circle to the open position.
The trademark round hole was introduced in 1981 on the Spyderco Worker knife, and continues to be used on hundreds of models to this day. The hole comes in many different sizes and many custom makers also license the use of the round hole from Spyderco for production of less than 100 peices a year. Variations of the round hole can be found on many knives as well, including Spyderco's own Byrd line of knives which are somewhat more affordable than their normal offerings.
Some notable custom makers using the round hole include Jens Anso and A.T. Barr.
Spyderco Round Hole™ Examples