Custom and Production Knife Reviews - Spyderco, Strider, Benchmade & More
Reverse Tanto - Blade Geometry
Reverse Tanto Info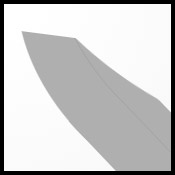 Description
There are two main types of Reverse Tanto. The first is the reverse tanto that was popularized by Warren Osborne with his designs for Benchmade Knives. It is not a very common shape and resembles a Spey Blade. Technically it should be called a Reverse American Tanto. The second kind of reverse tanto is from Bob Dozier that actually more resembles a reverse Drop Point.
An Osborne reverse tanto is basically an American Tanto blade turned upside down so the angular side is on the top, making the knife look like it has a very drastic drop point.
Aside from looks, I can see no true purpose besides its unique look to the Osborne style reverse tanto. The point sits at about the level of a spear point, and I would think in practical use the performance nearly identical with possibly a slightly stronger tip due to the extra material.
A Dozier reverse tanto has no angular corners, but rather looks something like a Santoku. It does have a markedly different feel than other blade shapes.
On the Dozier, the point is much lower than the midpoint as with a spearpoint, so there are some differences as you would have better tip control than a spearpoint, but slightly less belly - like a halfway point between a spear point and a Wharncliffe blade.
In general there is no real rule with reverse tantos. There are several other makers that have made styles similar to both Osborne's and Dozier's reverse tantos, but with varying differences including the location of the tip so none of these things are concrete. In fact, Osborne's Benchmade 921 design resembles Dozier's version of a Reverse Tanto but he calls it a Modified Wharncliffe.
Reverse Tanto Examples