Custom and Production Knife Reviews - Spyderco, Strider, Benchmade & More
Benchmade Axis Lock - Locking Systems
Axis Lock Info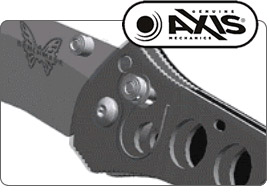 Description
The Axis lock was released in 1998, and was the first new major locking system to be used by a production company since the liner lock. The Axis lock, like the Speed Safe system, was a hit and spurred a ton of me-too designs with the same general idea from many of the major knife companies. The lock works by using two omega-shaped springs to push a bar across the tang of the knife when it is opened. This bar is held in place by the scales and liners of the knife so it is very strong.
The Axis lock has many advantages over conventional locks such as the liner lock and lockback. One of the most notable is the ability to close the knife without placing your fingers in the blade path. Another is that it is completely ambidextrous, as the lock is identical from both sides of the knife. Also the way that the lock is engaged allows it to open a bit more smoothly, and also is slightly less prone to torque failure like a liner lock.
The locking system is not without it's disadvantages. The two most obvious disadvantages of the Axis Lock system are it's reliance on two small omega springs to keep the lock engaged. Indeed there are two springs keeping it engaged, so if one were to break (and they do break) there is a second one making sure your knife doesn't close on you. The other obvious disadvantage of the Axis Lock system is that it is very susceptible to dirt and debris build up inside the lock, which is not easy to clean out. Some newer locking systems have attempted to correct this defficiency.
Since the Axis lock requires some machining of parts in order to produce, it is not one of the easier locks to custom manufacture, though some custom knifemakers do have similar designs such as Grant and Gavin Hawk.
Benchmade continues to use the Axis Lock extensively throughout it's product line on knife design collaborations from Warren Thomas to Mel Pardue. It is also one of the few locks that can be easily made to lock the blade closed as well as opening, allowing it to be used for coil spring automatic knives.
Axis Lock Examples