Custom and Production Knife Reviews - Spyderco, Strider, Benchmade & More
Slipjoint - Locking Systems
Slipjoint Info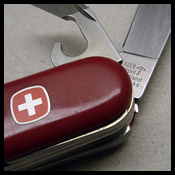 Description
A slipjoint is not really a type of lock, but it is a system for keeping a blade in position since slip joint knives are not really locked closed. Slipjoints are a lot like Lock backs without the actual notch that keeps it locked. The pressure is simply applied to the flat back of the tang by a leaf spring and it is basically held in place by tension. When you push on the spine of the blade, the spring will resist slightly, but it will lift and allow closing of the blade without a lot of force.
Most people have had some experience with slipjoint folders since they are used in a large variety of multi-tools like Swiss Army Knives. It is also used in many Case & Sons knives of which I've included a little diagram of how a Case knife is put together below in the Gallery. Another popular knife that uses a slipjoint design is the Schrade Old Timer. It is not the safest way to keep a knife open, but for the small chores usually associated with these types of knives, it is not necessary.
There are a lot of custom slipjoint makers out there that have been building beautiful multi-blade slipjoint folders for years such as P.J. Tomes, Joel Chamblin, and Hiroaki Ohta. The Japanese in particular seem to have a big interest building and collecting multi-blade slipjoints.
Slipjoint Examples